GEO 105
Cena brutto
Cena po rabacie
Przeciętny czas dostawy:
1 dzień
Szczegóły produktu
Cechy:
Interfejsy:
Wejścia: 1xHDMI, 1x VGA, 1x DisplayPort, 1x DVI-I (wspiera HDMI, DVI, VGA)
Maksymalna rozdzielczość wejściowa: 4K/2K @30Hz, 3840x1080 @60Hz dla wejść HDMI & DP, WUXGA dla VGA & DVI-I.
-1x HDMI, 1x DVI-D (kopia)
-Skalowane wyjście ze wsparciem rozdzielczości do 1920*1200.
Wejścia audio: HDMI, 3.5mm jack dla VGA.
Wyjścia audio: 1x SPDIF RCA, HDMI.
DisplayPort oraz HDMI/DVI wspierają WQXGA oraz [email protected], 4k/2k @30Hz.
Zmiana Warping i ustawie n geometrii obrazu:
Opatentowana technika warpingu dla dokąłdnych przesunięć gemetrii.
Szybki ustawienia wyświetlanai w narożniku ( corner adjustment) , korekcj Keystone pionowa i pozioma, ustawienia pincushion barrel
Ustawienia geometrii w menu ekranowym w sieci do 3x3.
Narzędzie wsparcia ustawiiń geometrii i korekcji krzywizn 33x33 punktów.
Maska narożników obrazu .
Konwersja aspektu 16:9 i 2.35:1
Obrót o dowolny kąt
Układanie obrazu
Układanie obrazu dla płaskiego i zakrzywionego ekranu z wieloma projektorami w celu zwiększenia jasności.


Obrót i rotacja
Obrót obrazu o 90/180/270 stopni
Obrót względem strony lewej/prawej, góra/dół oraz przód/tył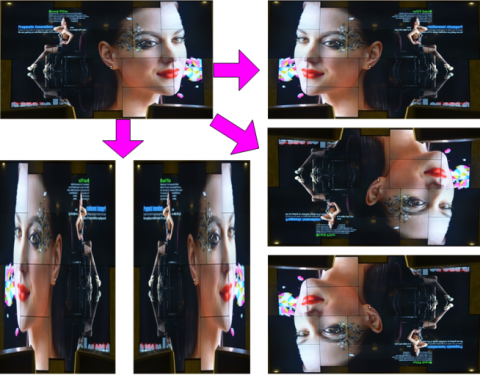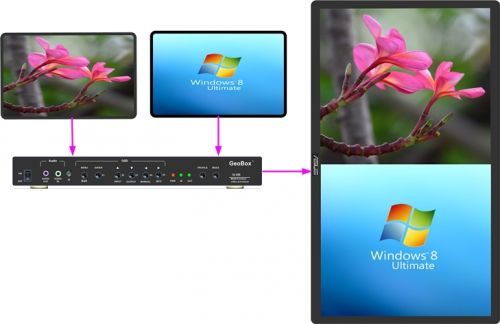 Wyświetla dwa obrazy typu lansdcape na jednym formacie portretowym w pozycjach góra/dół.
Aspekt obraz oraz jego położenie możemy regulować dymanicznie i ustawiać co do piksela.
Pasywny wyświetlacz 3D :
Dekoduje formaty 3D z Blue Ray, Set Top Box, PC…na wyświetlaczu pasywnym 3D skłądającym się z dwóch projektorów.
Konweruje aktywny sygnał 3D do 1080p @120Hz dla wyświetlenia pełnego obrazu pasywnego full HD 3D.
Wspiera formaty HDMI 1.4a 3D formats, w tym 1080p/24Hz frame packed, Side by Side, Top-Bottom, Line by Line oraz frame sequential dla wyświetlaczy pasywnych 3D.
Wspiera 3840x1080 side by side oraz 1080i/60Hz frame packed 3D z kamkordera Sony FHD 3D.
Wspiera funkcję PIP na pasywnym wyświetlaczu 3D, zarówno główne jak okno jak i PIP z efektem 3D.
Perfekcyjna synchronizacja algorytmów RH/LH dla odstepnienia najbardziej komfortowago wyświetlanai pasywego 3D.
Wspiera ustawienia pasywne geometroo 3D, zakrzywiony ekran oraz łaczenia projektorów w stos.
Konwertuje sygnały dyskretne RH/LH 3D na format 3D side by side na wyjściu urządzenia.
Konwertuje format line by line 3D na side by side 3D .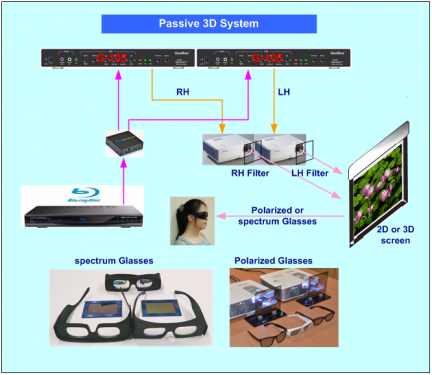 Obróbkak wideo high end
10-bitowy wysokoprzepustowy procesor z adaptacyjnym silnikiem i likwidacją przeplotu 3D, algorytmami niskokątowymi i funkcją detekcji i zmiany filmu 3:2/2:2
Wspira wejścia do 4k/2k @30Hz z kolorem 4:4:4 bez kompresji.
Inteligentne ustawienia koloru, tryby presetów , regulacja hue, nasycenia, jasności , kontrastu i ostrości oraz osobna kalibracja RGB.
Konwersja formatów
Convert below input signal formats into HDMI or DVI-D (mirrored) outputs:
DisplayPort, HDMI, DVI-D, DVI-A, YPbPr (through DVI-I or VGA port), VGA
Video wall function
Video wall function to split, crop and location assignment with pixel based location shift up to 900 pixels at H&V directions.
Pixel by pixel precise bezel compensation.
Video wall contro up to 15x15 matrix displays.
Able to create any style irregular video wall with multiple G-105 by inputting two coordinates of top left and top right corners for each LCD.
Image PIP/POP, flip and rotation function can be applied to video wall to provide special views irregular video wall display.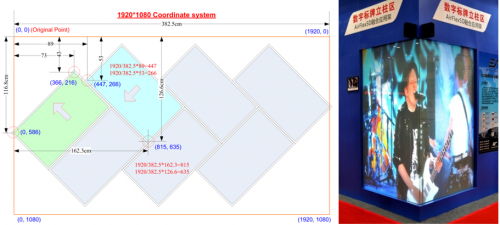 Input Top Left and Top Right corner coordinates to create any type of irregular video wall.
User can create all kind of irregular video wall using multiple units.
It can work with other GeoBox video wall controller to create video wall with PIP/POP and different image rotation angle.
Image any location croppingThere are three ways of image cropping through OSD by remote controller:
[Video Wall] menu: ZOOM, PAN and OVERLAP
In combination with image split (ZOOM), location assignment (PAN) and H&V 900 pixels cropping position shift function (OVERLAP), user can crop any location of the image to show on the screen.
User can use Warp function to do geometry adjustment function for the image, including image resizing, accurate position and change the shape of the image.
Menu mode can catch any image at any rotation angle through input two coordinates for Top Left and Top Right image corners. It can capture 16:9 image to fit any size, bezel and installation angle LCD.
PC Tool: user can capture arbitrary area image through selected 4 points coordinates of the image.


(Cropping 16:9 image through 4 points coordinates at any angle)




Dynamic aspect ratio adjustmentUser can adjust image aspect ratio through below function
The image captured through [Manual Mode] can do aspect ratio change from 0.5~2.0 in H&V directions separately without loss of the image content.
[Overlap] function under [Video Wall] menu can execute Aspect Ratio adjustment by changing image cropping range.
[Warp] function can also adjust the image aspect ratio.
Only this aspect ratio change through [Manual Mode] can execute seamless looping playback.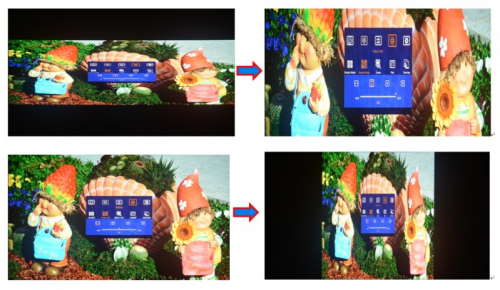 Dynamic image position shift
The image captured through [Manual Mode] can do dynamic position shift once the aspect ratio has been changes. The adjustment range is based on the same ratio as aspect ratio change. The maximum range is 0.5~2.0 in H&V directions separately.
This kind of dynamic position shift can be stored into 5 display modes and user can execute seamless looping playback for these display modes.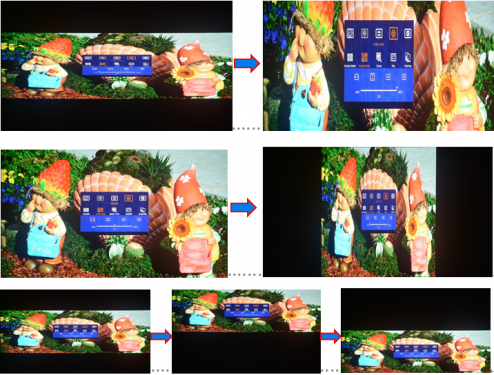 PIP/POP Multiple windows display
PIP function with selectable input selection in both main and PIP display windows
Flexible image size, aspect ratio, position adjustment through OSD or IR controller
Max. PIP size is 1024x768 resolution
POP function with selectable full screen or original aspect ratio.
Dual landscape contents displayed at portrait TV.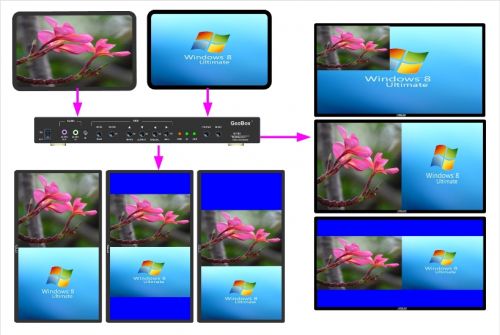 Looping playback with different display mode settings
User can select the different display modes created from [Manual Mode] under [Video Wall] menu for looping playback with selected time interval.
The display modes created from Dynamic Aspect Ratio adjustment and Dynamic Image Position shift can be selected in looping playback.
It will create more attractive video for audience.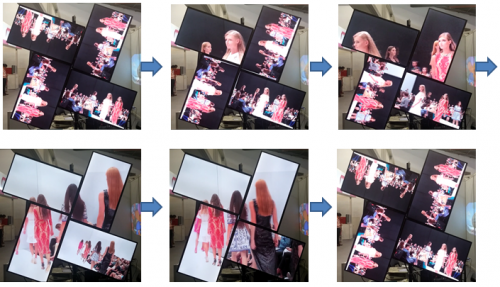 LCD burn-in mark protection
User can set multiple display modes with some image position shift and execute looping playback. It can eliminate burn-in mark in the LCD while long term playback still image.
Image de-warp for camera or video system
Image de-warp can be implemented through Warp function.
De-Warp function can be applied to correct image distortion of any image. It can be also applied to de-warp for medical endoscope and fish eye lens in surveillance system.
3D signal conversion
In additional projector active 3D and passive 3D application, G-105 can convert below 3D formats into one Side by Side 3D format output to meet the requirement in most of 3D display:
--RH/LH discrete 3D format
--Line by line (line interleaved)
--Frame packing
--Frame sequential
--Top-bottom 3D.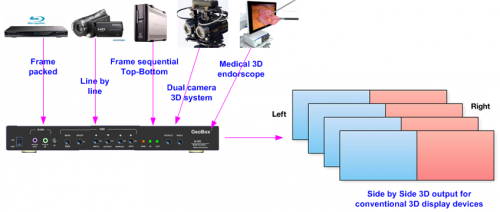 System control & others
Reliable and durable design for long term industrial and commercial applications.
Full functional keypads & IR control.
With internal grid pattern for quick and easy setup.
ID # for each GeoBox. Convenient for system installation and control.
keypad Lock (press menu for 5 seconds) to avoid setting loss due to negligence..
Multiple profile settings for flexible display modes memory and recall.
Integrated with IR extender (up to 20 meters) & RS-232
External Ethernet to RS232 adapter can be used for Ethernet control.
Dimension and weight: 303x160x35mm, 1.3kg